In the below article, Diarmuid Corcoran looks at the impact that fees can have on a portfolio over time.
Here at Wallstone we are passionate about putting our clients first. With this in mind, we have established four key pillars to achieve financial success for our clients, namely Diversification Is Key, Investment Risk and Return Are Related, Capital Markets Work and finally… Costs Matter!
As Einstein once (supposedly) said, "compound interest is the 8th wonder of the world… those who understand it, earn it, those who don't, pay for it". Compound interest has a largely positive impact on investment returns, particularly when you have time on your side however it can be a double-edged sword if your investment or pension provider advocates charging excessive and unnecessary fees for the service that they provide.
Consider the returns of Mr. Clever and Mr. Oblivious below. Both gentlemen have €100,000 to invest over a 25 year timeframe. Mr. Clever's primary concern is that his investment is in good hands so that he can concentrate on his golf so he decides to choose an experienced advisor who is prepared to monitor and review his investment on a regular basis throughout the term of the investment, adjusting the investment allocation over time as his personal needs and attitudes towards risk change. For this peace of mind, Mr. Clever pays his advisor 0.5% of his Assets Under Management ("AUM") per annum.
Like Mr. Clever, Mr. Oblivious also craves peace of mind and on this basis, he too chooses an experienced advisor who monitors and reviews his investment on a regular basis, keeping him well informed of his investment progress during the term and adjusting the allocation of the initial investment as appropriate over the term. For this 'wonderful' service, Mr. Oblivious pays his advisor 2% of his AUM, or 1.5% more than his good friend Mr. Clever. Although Mr. Oblivious knows he's paying "a tiny bit more" than his best mate, he knows his advisor "for years" and doesn't want to "cause a fuss over a meagre 1.5%!". In any event, Mr. Oblivious secretly believes (hopes) that he is getting a better level of service from his Financial Advisor than Mr. Clever is from his.
Fast forward 25 years and by coincidence, both Mr. Clever and Mr. Oblivious achieve a 6% gross return per annum over the term of the investment. It is only then that Mr. Oblivious begins to realise the true cost of paying a higher fee for his advisor's services. To his horror, his net return at the end of the 25 year period is more than 30% (circa. €115k) less than that of Mr. Clever! The reason… you guessed it, the impact that the additional 1.5% broker fee has had on his returns over time.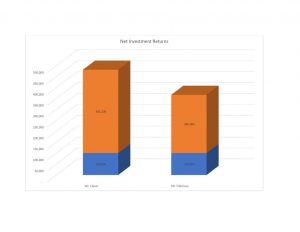 At Wallstone we believe in a clear, concise and reasonable pricing structure with no hidden fees and no unnecessary charges. We believe in our clients receiving real value for money so that their investments are allowed to grow and to flourish. Unlike many of the products and services that we as consumers buy on a daily basis whereby generally speaking, the more you pay the better the quality that you receive, we know at Wallstone that when it comes to investing, nothing could be further from the truth. We know that our customers are best served by a credible pricing structure if they want to generate incredible results. Contact Wallstone today to see if you are maximising your quality of life… can you afford not to?!